ATAC-Seq
Genome-wide profiles of open chromatin regions from < 100,000 cells
What our customers are saying about us ...
"I am studying the epigenetic regulation of heart failure. I have had a very good experience with Active Motif Epigenetic services and I will continue research with Active Motif in the future. I received good support from both the Sales Department and the Tech Support Team to help me to go through all the aspects of the service."
Ning Feng, MD, PhD
University of Pittsburgh
View complete list of testimonials >
ATAC-Seq is based on transposase-mediated insertion of sequencing primers into open chromatin regions. This assay provides genome-wide profiles of open and accessible regions of chromatin that are indicative of active regulatory regions.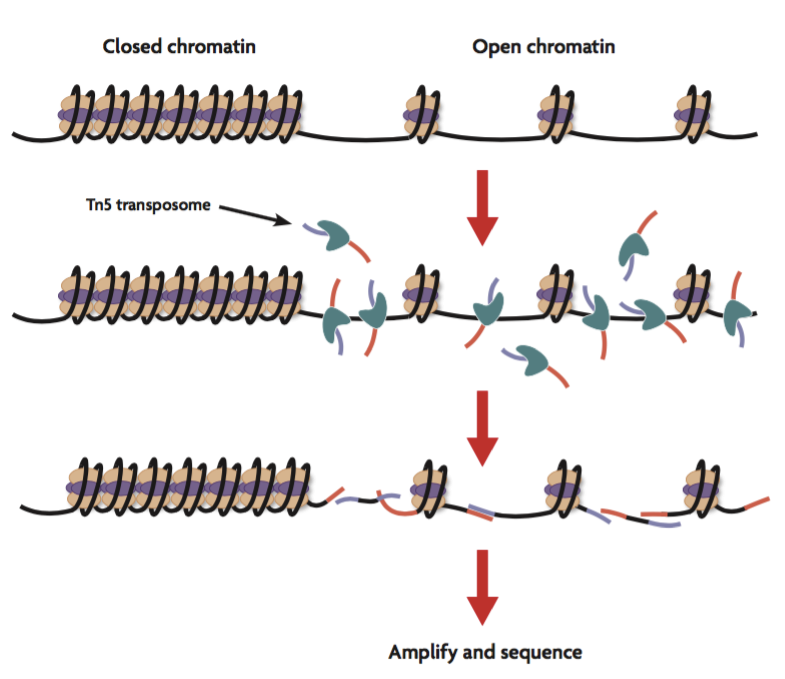 Why study Open Chromatin?
Gain mechanistic insight into gene regulation, cellular response to treatment or disease
Identify which transcription factors are driving cell fate, disease, or response
Primary tissues or cells such as pancreatic Beta cells
Limited patient samples
Stratify patients or sample groups based on open chromatin signatures
ATAC-Seq can be a good alternative to ChIP-Seq if it is unknown whether epigenetics plays a role in the response of your cell system, if it is unclear which histone modification is the most important to study using ChIP-Seq or when cell numbers are limited.
The ATAC-Seq assay includes;
Cell preparation
Transposase reaction
Library amplification
Sequencing on an Illumina platform
Bioinformatic analysis
Sample Types
Active Motif's services team is the only group routinely generating ATAC-Seq data from tissues. Active Motif will accept the following sample types for this service:
Human and animal tissues (including xenografts and human biopsies)
Primary cells (including T and B cells)
FACS sorted cells
Most rare cell populations
To learn more, send us an Epigenetic Services Information Request. You can also download Active Motif's Epigenetic Services Brochure.
Figure 1: Active Motif's ATAC-Seq assay reliably detects regions of open chromatin.
---
Figure 2: Active Motif's ATAC-Seq assay distinguishes sample groups by identifying chromatin regions that are differentially open.
---
Figure 3: Gene Ontology using differential regions from ATAC-Seq
---
Figure 4: Identifying important transcription factor binding sites using ATAC-Seq
---
Figure 5: Distribution of Histone Modifications Relative to ATAC-Seq Peaks at Annotated Promoters
---
Figure 6: Distribution of Histone Modifications Relative to ATAC-Seq Peaks Outside of Annotated Promoters
---
Figure 7: Active Motif's ATAC-Seq data generated from tissues
---
Figure 8: Active Motif's ATAC-Seq data shows high reproducibility
---